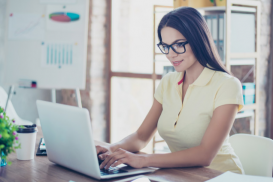 Curriculum
Complete Court Reporting & Transcription Package (BL-CRT-COMP-1.95)
This curriculum contains everything you need to pass the digital court reporter (CER) and legal transcriptionist (CET) portions of the AAERT Exam. It has been updated to meet and exceed the 2019 AAERT Best Practices Guide.
The newly included Digital Court Reporting 2.0 now includes a 45-day trial of digital recording software. With this trial students will get hands-on practice, making them more prepared for certification.
Transcription assignments require the use of Express Scribe software and an Infinity 3-pedal USB foot-pedal. Headphone are also recommended.

This course is designed to give participants a thorough understanding of what it means to be a digital court reporter.  Individuals taking this course will learn about the court system, laws, ethics, professionalism, legal procedure, and digital reporting software and equipment.  This course meets the standards set forth by the AAERT 2019 Best Practices Guide. Students will also receive an overview of the leading-edge technology, software and equipment used in digital reporting. This course does not include hands-on training with digital reporting equipment. Some assignments in the course require the use of digital court reporting software to complete.  Through an industry partnership, we have made available a 45-day trial of Digital Reporter Console Basic Edition.  In order to use this software, you will need a computer that runs Windows 10. (The trial software will not work with other operating systems used on computers/devices like Mac, Android, Chrome Notebooks, or iOS.)  For optimum performance of the software, these are the recommend computer specs:  Current Generation Quad Core Intel or AMD Processor / 8GB RAM / 15" Diagonal Screen Size / Screen Resolution of 1366 x 768 or higher. Terminology and AAERT Testing is covered in the Legal Transcription Combo course, so the Digital Court Reporting Combo course will skip all of Module 2 and Part 2 or Module 8.

This course should be taken by anyone interested in learning how to format transcripts of legal proceedings. This course will also help prepare you to take the AAERT CET Exam.  This course requires the use of Microsoft Word 2016, 2019, or Office 365.

Modules 1 and 2 were covered in the Digital Court Reporting Combo course, so the Legal Transcript Combo course will start on Module 3. Course Access: 365 days / Equipment Requirements:   Microsoft Word (2016, 2019, and Office 365), Express Scribe Professional software, and an Infinity foot pedal. Headphones are also recommended.  This eight-week (70 - 80 hour) course is designed to be taken by a person wishing to work in the legal environment, particularly focusing on producing transcription of legal proceedings.  This course is designed to provide students with the ability to transcribe, edit, and proofread legal transcripts for correct grammar, punctuation and word usage.  Students will study the role of a digital (electronic) reporter and legal (digital) transcriptionist.  Students will learn decorum, principles and procedures, deciphering annotations, demonstrating the importance of confidentiality and ethics required in the profession. Students will study the role of a digital (electronic) reporter and legal (digital) transcriptionist.

This course package is designed to prepare you for the AAERT CET and CER test.